Elaine Legacy Center Vice President and Justice of the Peace Lenora Marshall swears-in Elaine Council Members, Bertha Glasgow and Sandi Franklin Carlton on January 1. Bertha Glasgow is also a Board Member of the Elaine Legacy Center. Her daughter, Brenda, is looking on.
G

oals of the Elaine Legacy Center
Research, preserve, share our oral narratives of the Elaine Massacre of 1919
Build a village that is a center of Delta spirituality, culture, arts, music, and education for meaningful tourism so that we all have an above average income and above average wealth accumulation.
_______________________________________________________________________________________________
Rare Opportunity for Elaine-Area Descendants
The Elaine Legacy Center has s rare opportunity to connect descendants of the Elaine Massacre living in the Elaine area to a team coach, psychotherapist / social workers—one African American and one white. They are offering free recovery work from the impact of racism on people: the mind, the spirit and the body. We call it racial trauma. We recognize that sitting in a space to heal this trauma can be very useful and releasing.Would you be interested in talking with one or both of them? Give James White (714-0307) or Mary Olson (816-6798) a call.
The origin of the connection is that Eileen, white social worker and now in California, grew up in El Dorado where she was told "Do not go into the Elaine part of Arkansas. Black people there are angry and mean. They will hang you."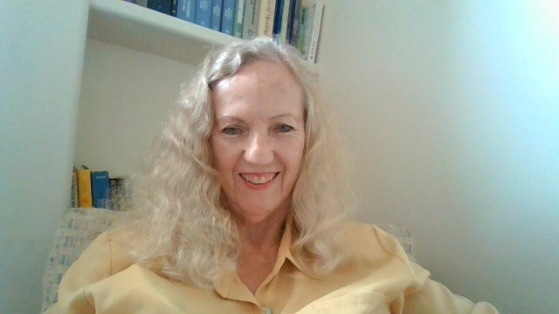 She did not hear of the Elaine Massacre until recently when her African American friend and colleague , Kathleen, shared it with her. So she and Kathleen, who works out of Paris because she could not stand the racism in this country, want to offer their services as facilitators in "inter-generational trauma."
An African-American Sistas to Sistas group with Elaine women and women who went to Paris to get away from the racism met for the first time on October 14. You would also be welcome to zoom with the group in Elaine. Sistahs will be offering the opportunity for women to have conversation: listening, sharing, being together in each other's company. This session is to introduce the sistahs to each other. If you don't wanna talk about anything you're free to just stay silent and listen. It's just a chance to connect and see if you want to join them in healing trauma.

Elaine Museum and Civil Rights Center Building Now on National Registry of Historic Buildings
The Elaine Museum and Civil Rights Buildings is basically unchanged from 1919. It will house the sacred memory information, pictures, and oral narratives of the Elaine Massacre of 1919. The adjacent space will be a sacred Memorial Park.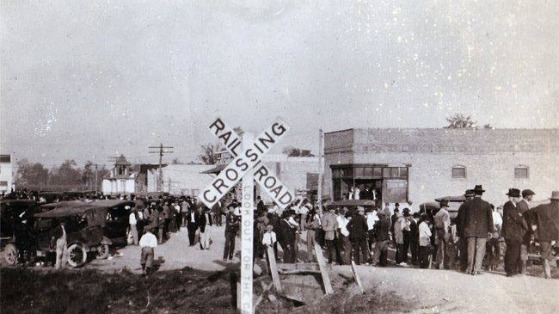 This building in the 1919 Massacre was the center of the horror of mob violence. It is thought to be the oldest structure remaining in Elaine. Most recently it was Lee's Grocery. Dedication of the new musuem is planned as part of the 102 commemoration on September 30, 2021.
Commemoration 102 - September 30, 2021
Homegoing for all named



and unnamed who were murdered in 1919 without burial or a funeral




On September 30, 2021, the Elaine Legacy, in partnership with the National African American Reparations Commission and the Samuel DeWitt Proctor Conference, Inc. will honor the sacred memory of all who died in The Elaine Massacre of 1919. A HomeGoing Service for them, named and unnamed, is scheduled and "Tomb of the Unknown but Not Forgotten" will be placed in Memorial Park.
Anniversary Commemoration 101 - September 30, 2020
Informal gathering of friends, new and old, to trample through the space where they remember being told bodies were buried and family members threatened into silence. On Wednesday, September 30, pilgimages to home and The Killing Fields will be a time for sacred remembering. Although on-site is personal sacred remembering, anyone anywhere is invited to join the descendants in prayer at 12 noon for an end to today's violence that is all too similar to that our fore mothers and fore fathers experienced. Call in 712-770-4918 at 12 noon and use the access code 9082678 to join Evangelist Lenora Marshall, descendants with the Elaine Legacy Center, and supporters to pray for the sacred space that is Elaine and for the area to prosper as a center of Delta spirituality and culture. Pray without ceasing for a violence-free world. This week The Elaine Legacy Center will launch instruction for the young people's Drum Line and African Dancers, covid-10 permiting. Ten drums are here and Instructor Ricco is eager to start. Check our facebook page for time Michael Wilson will preview the long-awaited film in which many Elaine Descendants are featured.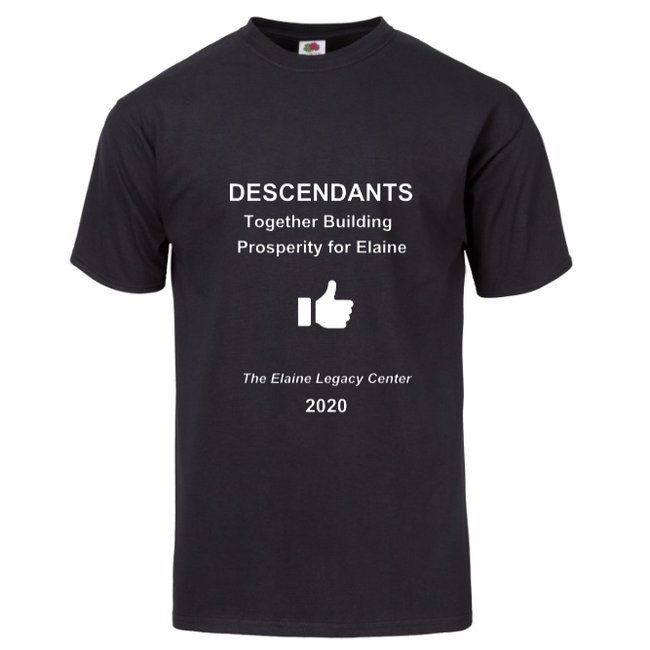 February 19, 2021, in collaboration with Samuel DeWitt Proctor Conference (virtual)
The first upcoming event is a homegoing for Silas Hoskins who was lynched in Elaine in 1917 because he refused to give his profitable business to white men who wanted it. Hoskins was Richard Wright's favorite uncle with whom he was living in Elaine at the time of Hoskins lynching. Read about Elaine in Black Boy, Chapter 2. Hoskins had no burial, no homegoing, no last rites. This will be a zoom event for a projected 2,000 participants. The Board will also work to have Hoskins remembered in the Lyching Museum in Montgomergy.
HOMEGOING
FOR All WHO DIED


in 1919 Elaine Massacre
Commemoration 2021. September 30
On September 30, 2021, (a year from now) the Museum and Civil Right Center will sponsor an on-site homegoing in Elaine for all named and unnamed people who died in the massacre of 1919. A gravestone will be dedicated to memorialize unknown deaths with the promise that they did not die in vain, similar to the tomb of the unknown soldier. A separate tombstone will be dedicated the named dead on which names will be added as the oral stories uncover them.
The Same Spirit of Hate That Led to the Largest Race Massacre in U.S. History
---
Research, preserve, and share the oral narratives of the Elaine Massacre

Build a village that is a center of Delta spirituality, culture, arts, music, and education for meaningful tourism so that we all have an above average income and above average wealth accumulation.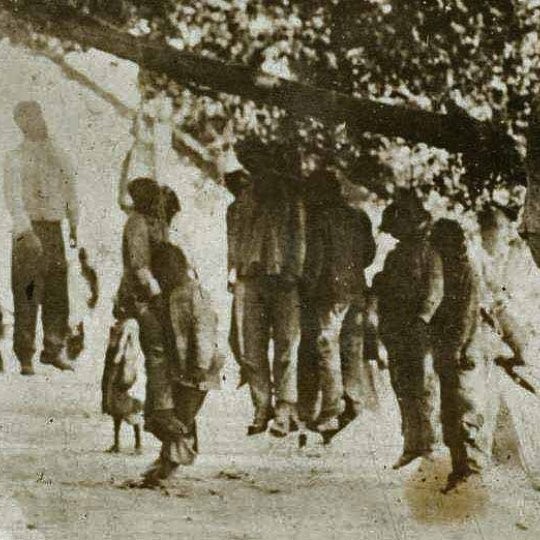 In 1919, Murderers were sent to Elaine by Alluvial Empire Builders Based in Helena to Kill Black Land-Owners in Order to Steal The Land.
From Land Ownership and Incomes to Poverty or Death Overnight. Poverty that still remains today - as does the call to "GIVE IT BACK."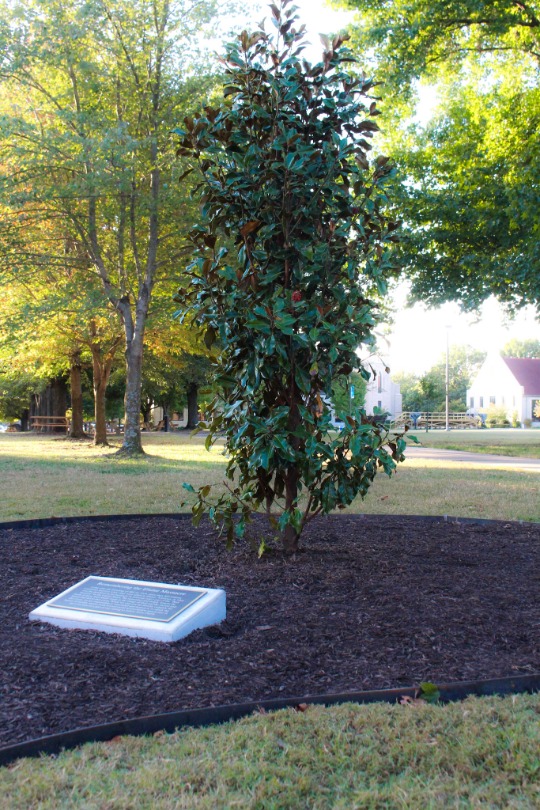 Elaine Memorial Tree
at John Brown University

On Sept. 30, 2020, a group at John Brown University in Siloam Springs, Arkansas, led a memorial service. This was in solidarity with Elaine in remembrance of the 101st anniversary of the 1919 massacre.
Students, faculty, staff and community members learned about the massacre and were led in a prayer of lament and Scripture reading as the campus memorial tree was dedicated.
A history class also presented an onsite exhibit sharing more about the history of Elaine and how it impacts the work toward racial justice today.

Eileen Cauley's fundraiser--Elaine Legacy Center
Eileen Cauley is organizing this fundraiser on behalf of The Elaine Legacy Center. .

I am a social worker asking you to join me in showing an often-forgotten, oppressed community that US people cared: the descendants of the 1919 Elaine AR Massacre who are still living in the area of the Killing Fields of 100 years ago.

In a country struggling with poverty, racism, and rural isolation, it is difficult to know what to do to make a difference or how to begin healing the massive wound of racism.

Make a difference in the lives of descendants of the victims of a race massacre

The community is Elaine, Arkansas. The nonprofit comprised of descendants of the 1919 Massacre is The Elaine Legacy Center. We don't know how many were murdered in 1919, but current estimates are over 1000 of their ancestors in a period of three days. What really happened has been suppressed and too little research is being done. Even today descendants are fearful to share stories being handed down from generation to generation - still in fear of white retaliation. The poverty that followed the massacre of black farm owners and their families is still there today. Descendants are working to rebuild their once-prosperous community but often they feel that they struggle alone. A good reality-check of what life is in Elaine today is recognizing that a year ago, when the 100th anniversary of the massacre was commemorated at the Elaine Legacy Center, all three white churches in Elaine cancelled services and I am told all white people left town. The divide is real but so is the Hope of the people that a new future can be carved into the Arkansas Delta.

There were both sharecroppers and prosperous black landowners who were killed and robbed, stealing any inheritance that would have gone to the descendants because the houses, property, and land with crops were gone in three days of torture, terrorism, and death. The descendants are quite aware that their lives would have been much different if their ancestors had been allowed to live.

Please help me let these descendants know we care; that there is not 100 more years of poverty ahead by sending money for a gym, a school, educational bank accounts for the children, and essential living needs. They will do the rebuilding. But they need a sign of Hope. Are the above things enough to stop the vicious 100-year old cycle of poverty? No. But it is the first step in letting them know they are not alone as they enter a time of determination in ending the poverty left to them when their ancestors were massacred.

I am asking for your help in giving money for the children of Elaine to put in their bank accounts so the Legacy Center can educate them on the value of savings and wealth accumulation--not as a pipe dream, but as a real-life experience. This isolated town needs a gym and a school. The money will also be used to purchase laptops so these children can attend virtual school, as well as tutors to help them catch up. Needed items such as blankets and jackets and other essential needs will be provided.

I was born and raised in Arkansas. It was not until I moved to California that I heard about the Massacre. Like other white people in Arkansas, it was hidden from me. I was warned, "Do not go to that part of the Delta because Black people are mean and angry and they will lynch you!" I am sure I was not alone in growing up with this awful stereotyping. We had no mention of the massacre in history classes, in churches, or in the community.

There are too many injustices to mention in this forum. It is important to note that twelve black men were arrested, charged with murder, and sentenced to death--because they had the audacity to fight back They were tortured, tried, found guilty by an all white jury, which spurred African-Americans to go into action to defend them. The NAACP hired an attorney to defend them, and he was hidden in different African-American homes at night to keep him from being killed. It resulted in a landmark Supreme Court decision that gave African-Americans the right to due process in a court of law. Yet we are not taught any of this in our history classes.

No attempts to check facts and see what was happening today. Because an African American colleague in Paris told me the story, I am no long blind to reality. I want Americans in neighborhoods with like minds to let the people still facing repercussions from 1919 know they are not alone struggling to raise families in a rapidly changing world.

No white person was charged with a crime in the Elaine "Race Riot"

We are only beginning to recognize the depth of the intergenerational post traumatic stress syndrome (PTSD) in Elaine and elsewhere. But we do know that when coupled with extreme rural poverty, the cycle will not be easily broken. I hope you will help us take the first step. Everything starts with "Hope."

The money raised in this GoFundMe account will be used to improve the lives of the children: to break the cycle of hopeless poverty their families have endured for 100 years since the massacre.

The money will be used to fund the truck taking the donations offered by NextDoor members. In addition, educational bank accounts will provide a stable base for these children to begin life with self-determination and Hope. This town also needs a gym and a school.

If your heart is moved to help in this effort, Elaine families will be greatly empowered.

The Elaine Legacy Center did not solicit me to form a GoFundMe. Check out their facebook page!

The world owes these people a great big care package!

I just couldn't sit this one out!

With trust and hope in you and our United States in healing our massive racial wounds,

May God bless and keep you safe!

Eileen Cauley, LCSW
Arkansas license 557-C

Join me in supporting this deserving community.
This is just example text. Click to edit and add your own content. This section design focuses primarily on text-content, which can be used to communicate information to your website viewers. You don't need any professional writing experience to create great text-content, all you need is an idea and a keyboard.